Scene & Show hypnotisør uddannelse
Live Undervisning: Lasse Kvist
Udviklet af Martin Castor
Dette er for alle elever der er på online eller live forløb.
Kan købes direkte, eller med "gratis"kode fra din instruktør hvis du er tilmeldt et forløb allerede.
Sådan bruger du din kode for at få adgang
Hvad er inkluderet i kurset?
Komplet manual som PDF download.

Adgang til vores Alumni Hypnose Klub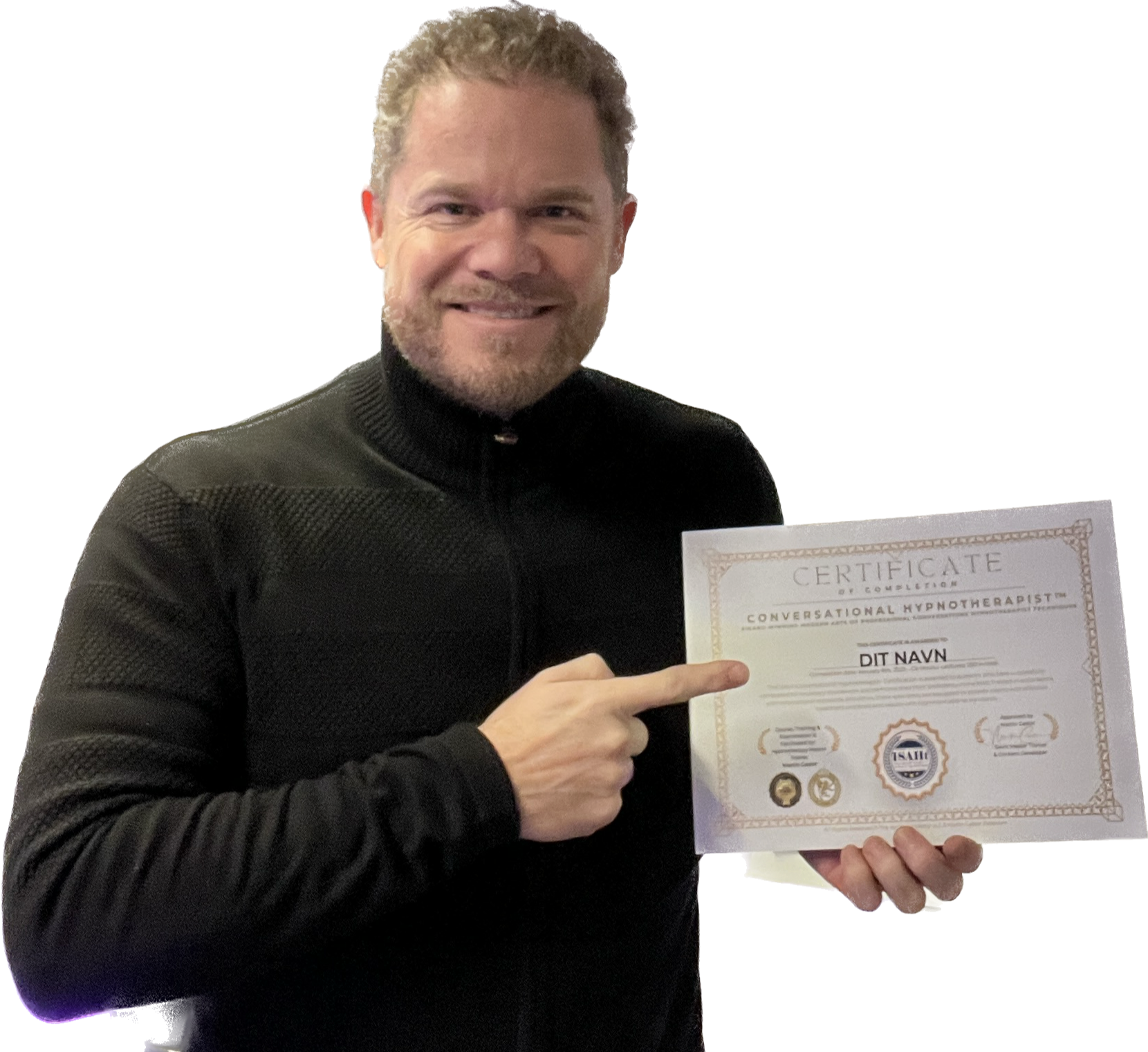 Normal text with icon
Pre-course
Er du interesseret i at blive en professionel showhypnotisør? Så er vores certificeringskursus lige noget for dig! Vi byder dig velkommen til Europas bedste showhypnotisør certificering, hvor du vil få adgang til unikke værktøjer, indsigter og teknikker fra en af verdens mest anerkendte professionelle showhypnotisører. Danske Martin Castor, som i mere end 20 år har optrådt og undervist over hele verden, vil være din lærer. Han er den første og endnu eneste dansker, der har arbejdet på kontrakt på casino i Las Vegas, og har også vundet "golden Buzzer" knappen i Danmark har talent.
Dette er en unik mulighed for at lære fra en sand ekspert indenfor branchen og for at få de værktøjer, du skal bruge for at tage din karriere som showhypnotisør til nye højder. Don't miss out, tilmeld dig nu og begynd din rejse mod succes som professionel showhypnotisør!
Adgang og uddannelse
Hvis du er tilmeldt et forløb allerede, enten som pakke eller tilbud, men ikke har adgang endnu? Så skal du kontakte os via supporten.

Er du ny, så vil du få adgang til forkursus allerede efter betaling, afhængig af din betalingsmetode.

Online betaling giver adgang straks.
Overførsel først efter modtaget betaling.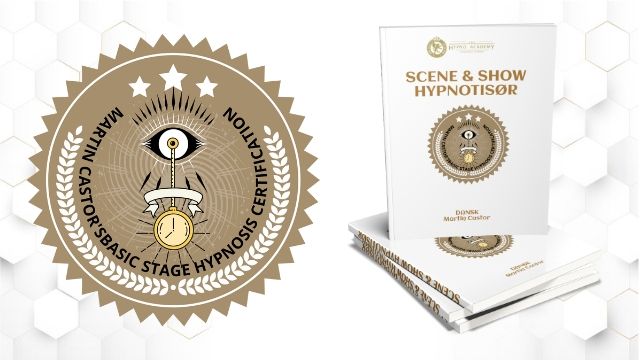 Her er en indholdsoversigt!
FIND DE RIGTIGE EMNER
Lær at udvælge de rigtige emner til scenen
TYPER AF SHOWS
Der er forskel på shows. Lær grundelementerne og forskellene på Europæiske og Amerikanske shows
SIKKERHED
Sikkerhed sikker hed sikkerhed. Vigtig viden indenfor alt der har med dit show at gøre.
PRETALK
En pretalk er info, programmering og forventningsafstemning. Lær at opbygge en der virker effektivt.
TESTS
Suggestionstests er ikke altafgørende for udvælgelsen, men vigtige elementer i prægningen af hele dit publikum.
SHOW KVALITET
Hvad er forskellen på et amatør show og et professionelt show. Indhold, kvalitet og opsætning er svaret. Få overblikket på uddannelsen her.
INDUKTIONSTEKNIK
Induktionen er ikke altafgørende for dit show. Det er en effekt. Lær at sætte den korrekt op, da det ikke er tilfældigt hvad der benyttes.
SLEEPING HERO'S
Smart måde at udnytte publikum på efter showet er startet, så du kan få endnu flere på scenen hvis du mangler.
FRAKTIONERING
Lær styrken i at fraktionere alle på scenen igen og igen på den mest effektive måde.
PIEF
En genial model til at opbygge og skal nye acts på. Find dit fingeraftryk som performer for at gøre dit show unikt.
ACTS
Variation og forståelsen i brugen af acts er vigtigt. Få det store indblik på uddannelsen.
SPEEDINDUKTIONER
Hvilken speedinduktioner virker på scenen og hvorfor?
SHOWFINALE
Finalen på dit show er også en del af din identitet. Sørg for at publikum går derfra med en fantastisk oplevelse.
"GIVE AWAY"
Giv alle deltagere på scenen og publikum en fantastisk gave som en del af showet. Positiv suggestion der holder resten af livet.
CALLBACKS
Lær metoden der i stand up kaldes "call backs" - som kan ende med at være din "show saver" eller røde tråd gennem det hele.
Modtag tilbud, nyheder og gratis indhold direkte i din indbakke!
Mange Tak
Info er på vej til dig...
Martin Castor
Master Trainer & Content Developer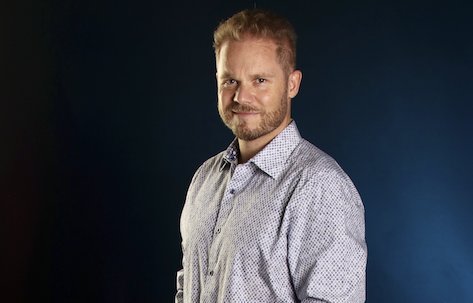 Vicepræsident (ACHE)
American Counsil of Hypnotist Examiners
Formand for marketing & events.


Rådgivende bestyrelsesmedlem hos (ICBCH)
International Certification Board of Clinical Hypnotherapy


Rådgivende bestyrelsesmedlem hos (ISAHt)
International Society of Advanced Hypnotherapists
Empty space, drag to resize
Bedst sælgende forfatter på Amazon juli 2019
Bogen: How Your Success Starts With Your Pretalk
Empty space, drag to resize
ICBCH's Educator of the year Award 2019
ACHE's Award of Recognition for an Outstanding Professional Presentation 2019
North American Academy of Hypnosos Instructor of the year Award 2018
ICBCH's Award of Contribution to Hypnotherapy 2018
ACHE's Award of Recognition for an Outstanding Professional Presentation 2018
IHF's Award of Excellence of International Education 2013.
Empty space, drag to resize
Certified HNLP & NLP Trainer
Certified Trainer in Brain-based leadership & Training
Certified NLP Practitioner & Master NLP Practitioner
Certified Master Hypnotherapist
Certified Transformational Leadership Consultant
Certified Executive & Professional Life Coach
Certified clinical hypnotherapist
Certified Conversational Hypnotherapist
Certified Ericksonian Hypnotherapist
Instructor and developer of: Body language methods, mindfullness, self hypnosis & advanced Hypnotherapy & communication